Waterjet vs. EDM
EDM (electrical discharged machining) is an erosion procedure that uses an electrical release, it cuts up to 12″ thick, and it requires different wiring for different jobs. Waterjets cut the same parts as EDM much faster and cheaper. Holding a tolerance + or – of .003. When comparing waterjets to EDM the advantage to a waterjet are they are faster than EDM, waterjets are more versatile and can cut materials that EDM can't cut such as plastic, wood, glass, etc. waterjets can pierce the material where an EDM needs the hole to be made in the material. There is no heat affected zones with waterjets nor do they have thermal distortion where it may occur with an EDM. Waterjets require less set up time. Another advantage to a waterjet rather than an EDM is that waterjets can make bigger parts than EDM.
Waterjets vs. Lasers
Lasers are mainly used for short jobs and a melting method is used with an intense laser light beam. Lasers usually have a cutting thickness of 1 inch or less. This process also uses different gases for different applications.
Waterjets have numerous advantages over lasers. Waterjets cut various material especially reflective materials that lasers can't cut such as copper and aluminum. There no heat affected zones or thermal distortion with waterjets like there is with lasers. Waterjets can cut heat sensitive material unlike lasers. Waterjets are environmentally friendly too. There is noxious gas or vapors produced during cutting. Waterjets keep their cutting power on uneven material unlike lasers. Waterjets have better tolerance on thicker parts. The cost of a waterjet cutting system is not nearly as expensive as a laser system and the operation of a waterjet is significantly lower than the cost of laser operation.
The operation and maintenance on a waterjet is much simpler and easier than that of a laser. Another advantage of waterjet vs laser is a waterjet has a much better edge finish because of its smooth surface unlike the edge of a laser which is rough.
Waterjet vs. Plasma
Plasma is a gas that is blown at high speeds while an electrical ark passes through. The gas reaches an extremely hot temperature that melts the metals placed in the cutting area.
One of the advantages that waterjets have is no melting or heat affected zones. There is no heat distortion and it does not change the properties of the material.
Another major advantage is that waterjets cut at much lower temperatures. Waterjets cut a wider range of various materials especially materials such as granite, plastics, or laminates that are destroyed by melting.
Waterjets offer better precision and intricate parts also.
 Waterjets vs. Routers
One advantage of a waterjet versus a router is that waterjets are capable of cutting true 90 degree angles and corners. A waterjet needs only one cutting head for all applications and does not need to change bits like you would with a router.
A waterjet has a small cutting curve. Another advantage of waterjets is they can cut parts 2-3 inches or more in thickness.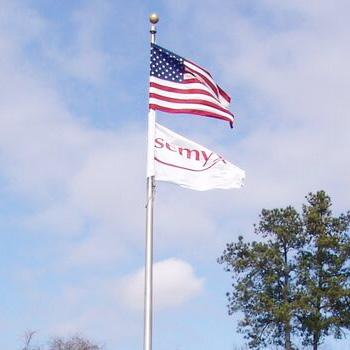 Testimonials
Semyx has an excellent customer service department. Their staff is always understanding and willing to take care of customers right away.
With the wide variety of services we offer, it is crucial we have a company that is dependable and cost efficient, and that's what we get from Semyx.
Customer service from Semyx has been a welcome change to what we've been accustomed to in the past.
West Coast Customs relies exclusively on Semyx water-jet cutting technology to bring my creations from renderings to reality.