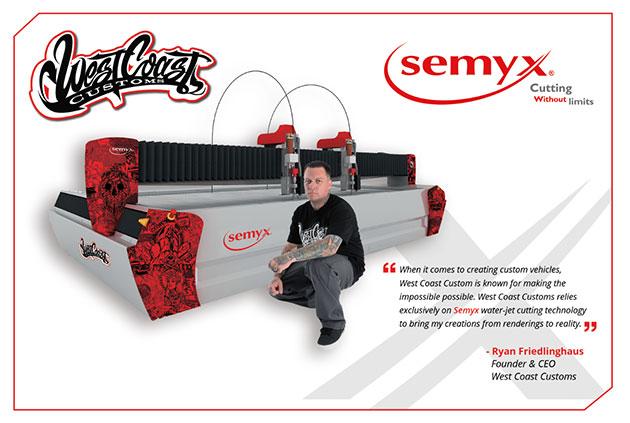 Ryan Friedlinghaus of West Coast Customs to Join Semyx at Westec

   Get an autograph by Ryan Friedlinghaus of West Coast Customs in the Semyx
Celebrity Autographs and Innovative Cutting Demos are Highlights of the Semyx Booth
LOS ANGELES, CA — September 6, 2017 — Semyx, LLC, one of the world's leading manufacturers of water jet cutting machines, has announced a demonstration of their two most popular waterjet cutters for potential customers in the United States and surrounding North American countries. The machines will be on-site in booth #1123 at Westec 2017, "The West Coast's Leading Manufacturing Event."
---
Event Details
Tuesday, September 12
9:00 a.m. – 6:00 p.m.
Wednesday, September 13
9:00 a.m. – 7:00 p.m.
Thursday, September 14
9:00 a.m. – 4:00 p.m
Los Angeles Convention Center
1201 South Figueroa Street
Los Angeles, CA 90015
213.741.1151
Aside from these informative cutting demonstrations, Semyx is, also, excited to announce the appearance of celebrity auto customizer and West Coast Customs owner and co-founder, Ryan Friedlinghaus. West Coast Customs has grown into one of the most powerful and recognized brand names in the custom automotive industry and now has franchises stretching across the world. Owing to the patronage of celebrities such as Shaquille O'Neal, and Sean Combs, along with appearances on the reality television programs Pimp My Rideand Street Customs, the company has gained a high degree of notoriety and has become a multimillion-dollar business. Ryan and WCC have, also, worked with some of the largest brands in the world, including Fortune 500 companies.
"We're excited to have such a great partnership in Ryan and the team at West Coast Customs," said Haisar Shehadeh, Director of Sales at Semyx. "West Coast Customs is known for making the impossible possible in custom autos. We share the same philosophy with our cutting machines—if a customer can dream it, we can build a custom waterjet exactly to their specifications!"
---
Ryan Friedlinghaus Autograph SessionWednesday, September 13
12:00 p.m. – 2:00 p.m.​
---
To see some of the amazing work of Ryan Friedlinghaus and the West Coast Customs Design team, visit their website at http://www.westcoastcustoms.com/. For more information and product flyers on the Semyx line of waterjet cutting machines, visit the Semyx website at http://semyx.com/. To find out more about Semyx' booth at Westec 2017, attendees are encouraged to visit the Westec event website at http://www.westeconline.com/.
Copyright © 2017 Semyx, LLC, All rights reserved.